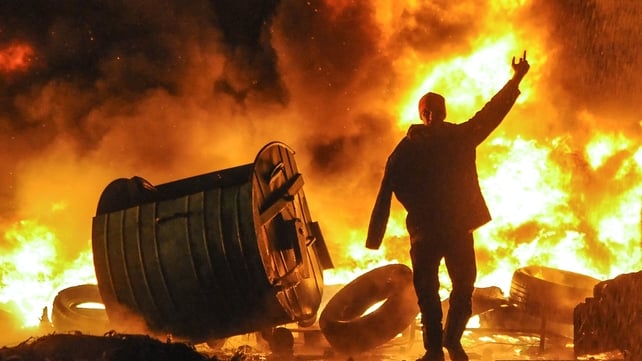 It's revealing of the extreme extent to which people in the USA are propagandized that they would in any way deny or be surprised that the USA would (as it has been caught red-handed doing) support a neo-Nazi led (as even the BBC now admits and has been known all along) overthrow of Ukraine's democratically elected president.
Since 1945, the fascist USA has criminally overthrown or attempted to overthrow at least 62 governments, the majority of them democracies. Five of these have been under Obama, again the majority of them overthrows of democracies. For these, because he could not secure elite imperial interests democratically, Obama has
supported the lowest, murdering street-fighters, jihadist extremists, and neo-Nazi fascists
. (And let's also remember Obama is supporting, among many others, the mass-murdering military dictatorship in Egypt, the mass-murdering, child torturing military dictatorship in Bahrain, the mass-murdering military terrorist dictatorship of Saudi Arabia, and the mass-murdering, child-torturing military dictatorship of Israel. The USA just supports whatever side in any conflict will benefit US imperialism.)
In these overthrows, all of which are illegal, the USA always takes the side of ultra-right wing fascists that want to be supported by the USA, which in return receives massive benefits looted for its elite interests.
The USA backing neo-Nazis in Ukraine is just the continuation of the norm, which is that the USA, non-stop since 1945 and actually throughout its history and before as colonies, has been mass-murdering and supporting mass-murderers to destroy rule of the people and enrich the sick opportunists carrying out these crimes.
To put Obama's neo-Nazi led overthrow of Ukraine in some perspective, here is a short list, just thirty-five examples, of the USA supporting Fascists, Drug Lords, Terrorists, and Aggressors:
From Nicholas J.S. Davies:
***
A huge amount of human suffering could be alleviated and global problems solved if the United States would make a genuine commitment to human rights and the rule of law, as opposed to one it only applies cynically and opportunistically to its enemies, but never to itself or its allies.